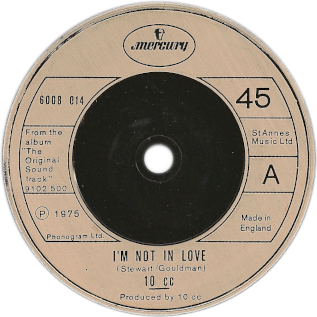 "I'm Not in Love" is a song by English group 10cc, written by band members Eric Stewart and Graham Gouldman and  released in the UK in May 1975.
Eric Stewart came up with the idea for the song after his wife, to whom he had been married for eight years at that point, asked him why he didn't say "I love you" more often to her. Stewart said, "I had this crazy idea in my mind that repeating those words would somehow degrade the meaning, so I told her, 'Well, if I say every day "I love you, darling, I love you, blah, blah, blah", it's not gonna mean anything eventually'. That statement led me to try to figure out another way of saying it, and the result was that I chose to say 'I'm not in love with you', while subtly giving all the reasons throughout the song why I could never let go of this relationship."
Stewart wrote most of the melody and the lyrics on the guitar before taking it to the studio, where Gouldman offered to help him complete the song. Gouldman suggested some different chords for the melody, and also came up with the intro and the bridge section of the song. Stewart said that the pair spent two or three days writing the song, which at that point had a bossa nova rhythm and used principally guitars, before playing it to Godley and Creme. Stewart recorded a version with the other three members playing the song in the studio on traditional instruments – Creme on guitar, Gouldman on bass and Godley on drums – but Godley and Creme disliked the song, particularly Godley, as Stewart later recalled: "He said, 'It's crap', and I said, 'Oh right, OK, have you got anything constructive to add to that? Can you suggest anything?' He said, 'No. It's not working, man. It's just crap, right? Chuck it.' And we did. We threw it away and we even erased it, so there's no tape of that bossa nova version."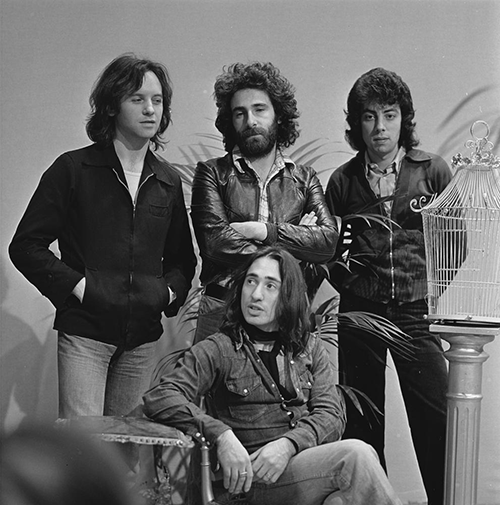 Having abandoned "I'm Not in Love", Stewart and Gouldman turned their attention to the track "Une Nuit A Paris", which Godley and Creme had been working on and which would later become the opening track on The Original Soundtrack album. However, Stewart noticed that members of staff in the band's Strawberry Studios were still singing the melody of "I'm Not in Love", and this convinced him to ask the other members of the group to consider reviving the song. Godley was still sceptical, but came up with a radical idea, telling Stewart, "I tell you what, the only way that song is gonna work is if we totally fuck it up and we do it like nobody has ever recorded a thing before. Let's not use instruments. Let's try to do it all with voices." Although taken aback by the suggestion, Stewart and the others agreed to try Godley's idea and create "a wall of sound" of vocals that would form the focal point of the record.
Enjoy
source: wikipedia